9:00 am. to 3:00 p.m.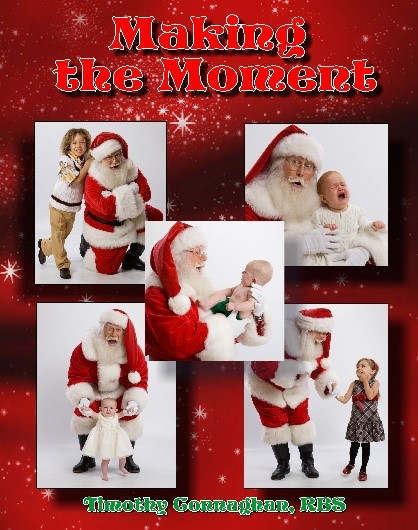 This is a Special one-day Session with 'hands-on' training for those who want to be, or consider themselves, "Professional." * Included is my newest book, "Making the Moment."
It is for those Santas and Mrs. Claus who have already attended a School4Santas*, and are looking to take a big-step away from being average, eliminating the normal "cheese" photos, and creating photos and experiences that create special memories.
Whether you are working independently or contracted for major events and activities, this is where you begin making changes. Your day will be spent with hands on work, actual participation and physical practice with critique.
Advanced Training includes:
Making it Personal – Making your visit/appearance personal to all who are there. Your Physical Energy and Characteristics, your movement, etc.
Your Image as Santa

– What children, parents and others see and think of you – 24/7/365? – Grooming and Appearance – Enhancing your Image and appearance as Santa.

Making your visits highly memorable –

Why do some Santas and Mrs. Claus get invited to come back again. Why do clients help you find more work. Special treatments that make your visit highly memorable.

Advanced Photo techniques – Beyond the average poses – Creative posing with children, babies, families and groups – Techniques for all types of photos from babies, to seniors to groups and those with limited physical conditions. What the Camera sees and connecting with those on the other side of the lens. Personal Videos, Selfies, Casual photos, Facetime, etc.
Special Event Santa – Making the Grand Entrance. Handling large Crowds, Getting more training – Working with and using the Media. This session will include physical practice of your work at events, from small home visits to company parties to major community and media events. Again, we will have more roll playing.
Working with the Media – Aside from sending our media releases a Santa or Mrs. Claus needs to know what to do when the media calls. You need to know what to say and what not to say. What you do can make or break the story. We will review protocols for handling the media. Students will practice being interviewed, their presence on camera, and learning how to reach those who will be watching.
The Entertaining Santa – Add Storytelling, Singing, Magic, etc. Techniques and practices in adding entertainment to the normal Santa or Mrs. Claus visit.
Presentation of Certificates. We will finish around 4:00 p.m.
*Attendance, concurrently or previously, at a regular 2-day School4Santas is a prerequisite for attending the "Advanced Training Session."  Also, attendance at the "Advanced Training Session," does not count as credit towards the next level or  an upgraded School4Santas Diploma.