The entire two day School4Santas

$199.00 plus shipping*

Save $$$$ over the cost of attending a live school!
No expensive Travel or Lodging!
Filmed Live at "Christmas Dreams" in Orlando, July, 2019.
Includes New Material, with 16 hours of Lecture Video and Power Point presentation.
View it as many times as you like!
View it all on your PC with Windows Media Player. View and learn at your leisure. And you can review any section as many times as you like.
Join with Santa Tim Connaghan as he presents his complete 16-hour, 2019 school including Power Point presentations, Over 4,200 have graduated from his courses, over 150 schools taught in the past seventeen years.
Included with your digital files is the full 246-page course book and a personalized "Associate" degree diploma, to frame and put on your wall. Plus you have access to all of our downloads files and support materials.
Your Training package includes:
The complete 16-hour, two-day training program with Power Point presentation. You can play it over and over.
The 246 page, 15th Anniversary edition of of "Behind the Red Suit", with updated pages of information and resources. Value $60!
Save $30 if you already have a copy of this book.
Personalized "Associate Degree" Diploma
Regular School4Santas registration is
$299.00 for Singles – $429.00 for Couples
Plus you save the costs of hotel, meals and travel.
It is a real, Two-Day Workshop without the Expense of Travel, Meals & Lodging! Study whenever you want! – Review whenever you want! – As many

times as you like!
———————————————
Add "Making the Moment," advanced training $99.00*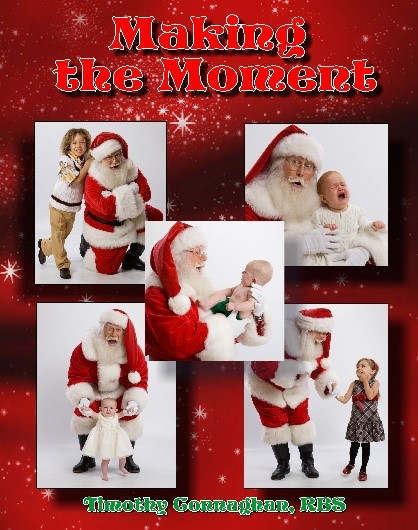 The Advanced Training Session (ATS), "Making the Moment," is offered on the day following a general two-day School4Santas. Recorded live in Orlando, FL, This course offers advanced training on special events, posing and other techniques for Professional Santas. It includes a special course book, Making the Moment," with tips, advice, techniques and almost 200 photo examples, plus a personalized Certificate of Completion.
Recorded in MP4 format which can be view on almost any computer. Alumni, who have attended a live school or who have purchased any of our home study courses make order just the Advanced Training.
Order your Home Study Program Today!