OHIO SCHOOL4SANTAS – LATE SPRING 2019
LOCATION TBA
For 2019, I am re-vamping the format for School4Santas. Instead of 8 to 13 regional schools, I will be offering just six schools and am planning to host these late in the spring or early in the summer.
Our annual Princess Cruise and School4Santas will be to Alaska this year, May 14
One of my firm beliefs is that Santas need to start early in the year if they want to make the best of the training they are receiving.
This will allow those wanting to get a big jump on the season to attend early, and s to allow all attendees the opportunity ool, so I am coming back again.
As with all of our schools, this is for all Santas, Mrs Claus and those interested in the Santa industry. Whether you are real bearded or theatrically bearded; professional or just a volunteer, this school has something for everyone. And on Saturday Night, as we have done with all of our Floriday Schools, we will have a special social in conjunction with the Palm Tree Santas.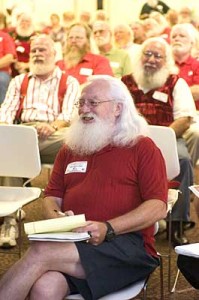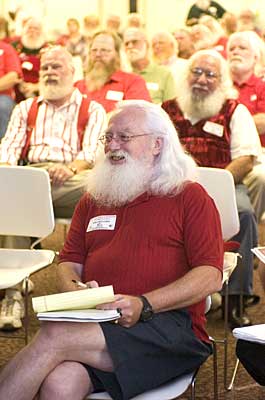 A single registration is just $299 for the two day course, $429 for a couple. This includes 16 hours of training, the 240+ page course book and your personalized diploma, or two diplomas for a couple. Travel, meals and lodging are not included.
Alumni Rates are just $239 per person, and $329 per couple and include the full course and diplomas, no course book.
For an additional $99 per person or $149 per couple, on Monday, I will be offering an advanced day of training with concentration and practical application on photography, posing, special events, and expanded elements for professional Santas and Mrs. Claus. Special certificates acknowledginge advanced study, will be presented.
Our location will be announced sometime in January 2019, if not sooner.
The daily school schedule is from 8:00 am to 5:00 pm. On Saturday afternoon, at the close of class, I will host a presentation of the Santa Claus Oath. All Santas and Mrs. Claus from the region are most welcome to join the class in the Oath ceremony. One does not need to attend the school in order to participate in the ceremony. Special Oath certificates, suitable for framing will be presented to all attendees.
And also, on Saturday evening, there will be a nice dinner locally, in conjunction with the Palm Tree Santas. Again, all regional Santas, Mrs. Claus, families and friends are most welcome to attend. You do not need to attend the school in order to join us for dinner. (Seperate checks please.)
On Sunday Afternoon, at the close of class, we will hold a ceremony to present diplomas to all students.
The full agenda for the school is available. Just click on the link at the top of the page.
To register, just click fill out the form below.