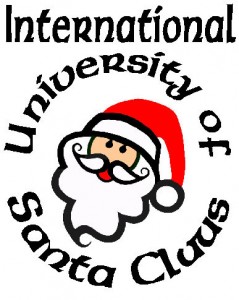 School4Santas Course Downloads
The following copyrighted items are available for all students and alumni who have attended the International University of Santa Claus, aka School4Santas, or who have purchased the DVD correspondence course.  All of the worksheets, documents, and written articles are available only for the use of students and alumni who have attended IUSC and School4Santas or taken the DVD course.   Use by anyone else is not granted or allowed.
Unless otherwise stated with the links below, you may not reprint, re-edit, re-post, duplicate, or publish anything here either in books, pamphlets, on your website or any electronic means without express, written permission from me.   Those items that you are allowed to edit and use are noted.
Everything is for the personal use of IUSC Alumni to make their jobs easier, to be more coordinated and to help each Santa look more professional to their clients in the hopes that it will assist them in their work and further pursuits of bringing joy and happiness to children and families everywhere.  Remember these are copyright and they cannot be published, posted on other websites or published in any other type of media without the express permission of Santa Tim Connaghan and The Kringle Group, LLC, and those items that are allowed have their requirements and restrictions listed.  whenever used or shared must be done so with the copyright, listed.
And, if anything below is not working properly or a link does not work, please contact me: Santa@NationalSanta.com
The following items are downloadable and permission for personal use by Alumni of IUSC School4Santas is granted.
Santa Tim's Hourly Rate Self Computation Form©
MALL RATE COMPUTATION SHEET©
Tree Lighting Song©ASCAP
Christmas Toasts
The Symbols of Christmas Presentation
Spanish phrases for Santa by Santa Rich Gathney
Bleaching your Hair 2013©
---
    The following items are for the use of IUSC Alumni only and permission for personal use by Alumni is granted for downloading, changing and use in their personal business. Although there may be a copyright, there is no need to list the copyright or source:
Sample Booking Agreement©
Basic Consent and Release
 Local Santa Media Release©
---
THE FOLLOWING ITEMS ARE LINKS TO COPYRIGHTED HANDY HINTS THAT CAN BE USED BY IUSC SCHOOL4SANTAS ALUMNI TO HELP IN PREPARING FOR EVENTS.  A PDF COPY OR PRINTOUT WITH COPYRIGHT CAN BE GIVEN TO CLIENTS, CUSTOMERS AND FRIENDS, SO THEY CAN BETTER PREPARE FOR THE HOLIDAYS AND THEIR VISIT FROM SANTA.  THESE ARE ALL COPYRIGHT BY THE KRINGLE GROUP, LLC. AND YOU MAY ONLY PRINT THEM OUT OR SEND THE PDF FILE TO YOUR CLIENTS.
YOU MAY NOT EDIT THEM, CHANGE THEM OR PUBLISH THEM IN ANY FORM OR MEDIA.
HandyHintsforaVisitfromSanta©
Handy Hints for a Corporate Event©
Handy Hints for Special Events©
Get a Head Start on the Holidays©

---
Links to Videos seen at School4Santas
The following are links to videos posted on YouTube and other locations.  They are copyright by the individuals who created them and are not owned or copyrighted by The Kringle Group, LLC., IUSC or School4Santas These links are offered as a courtesy for your viewing and enjoyment.
Sant-A-Cademy Marine Drill Instructor with Santas
Royal Father Christmas School intro by Eric Idle
T'was the Night Before a Non-Denominational Winter Holiday – Larry the Cable Guy
Santa's Letters – Santa runs out of TP
Christmas Lights – Most popular home lights
Discover Santa Convention 2006 – © Sparkhill Productions –  Parade highlights from Discover Santa 2006 Convention in Branson, MO
Even Santa Vacations in Branson– © Branson CVB
---
THE IUSC ALUMNI LOGO
All Alumni of the IUSC (School4Santas) are welcome to place the copyrighted school logo on their web page or business card or on emails   You can add a small line that says you are an alumni or list what degree you have.  Just right click on the logo below to copy it.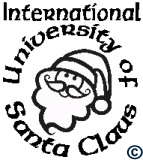 ---
Other Links your might Like
During Class, I sometimes mention links to certain webs sites or products.  For your convenience, I am listing some here.  If you have suggestions that you have found and would like to share with your fellow alumni, let me know.
---