11th School4Santas Cruise – May or June, 2019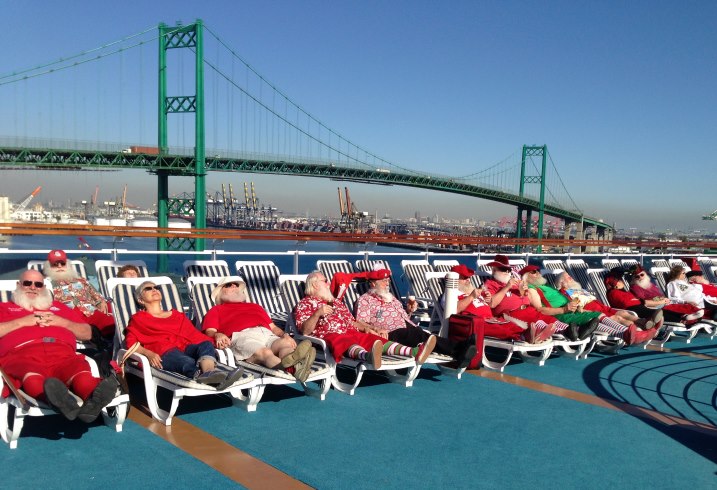 During our 10th Cruise to the Caribbean, we polled everyone with the goal to decide on where the next School4Santas cruise should go.
While at sea, we had two days of school and even a special side meeting of just the wives and Mrs. Claus.    And we also had many who could not go on this cruise and suggested Alaska for our next cruise. wanted Alaska instead and all on our current cruise agreed,
The result of our discussions was that we agreed it is time to return and host the 2019 school in Alaska.  So, it's "North to Alaska!"
It was also decided that the Alaska Cruise have additional activities just for the wives and Mrs. Claus.
The discussions also covered other future curises.  We agreed that we should try to schedule the 2020 Cruise to the Mediterrean, with stops in Italy and Greece.  But that will take more time to schedule.
The actually dates for next year have not been chosen, but we are looking at late May or early June, when the cruise rates are lower.
We are also going to switch this cruise around and start at the North Pole (near Fairbanks, AK) and then take the land tours down to Anchorage where we will board for our 7-day cruise.  It will be 11 days.  And for those who can only join us for one week, they can start in Anchorage and just go on the 7-day cruise.
The Alaska Cruise/Tour will include:
Ship: Island Princess, Royal Princess, Coral Princess or Golden Princess
Land Tour: Fairbanks |Denali Princess Wilderness Lodge | Whittier
Cruise Ports: Anchorage (Whittier), Alaska |Hubbard Glacier, Alaska (Scenic Cruising) |Glacier Bay National Park, Alaska (Scenic Cruising)| Skagway, Alaska | Juneau, Alaska |Ketchikan, Alaska | Vancouver, British Columbia
While on the seven days of the cruise we will have a full School4Santas, broken down into three mornings.  There is no cost for you to attend this school if you book directly with our Cruise Coordiantor, Suesie Toole.   And because the wives have requested it, there will also be a special program of meetings and activities, just for the Mrs. Claus and wives.
Details on all of this will be announced soon, as we still must  coordinate and schedule everything with Princess.  Suesie Toole, our Princess Cruise consultant will be helping us with that.
Call our Cruise Vacation Planner Suesie Toole at Princess Cruises
(800) 901-1172 ext. 41829
Email: stoole@princesscruises.com
Only when booking with Suesie, can you also get the school for FREE

Those who booked through the IUSC and Suesie at Princess Cruises  are fully registered for our School4Santas and can also get a tax deduction for portions of the cruise and the School.   Check with your accountant