11th School4Santas Cruise
IT'S NORTH TO ALASKA!
Royal Princess Cruisetour
May 14 -25, 2019
Landtour May 14 – 18
Cruise only May 18 – 25
Starting at $748 cruise only
Vancouver,
Ketchikan, Juneau, Skagway, and
Anchorage
plus Land Tour option to Denali, Fairbanks and
North Pole, AK

(See the full cruise/tour agenda below)
It is now official, It's "North to Alaska," for the 11th School4Santas Cruise. Infact it will be a cruise+tour starting on May 11, with a four-day landtour including Fairbanks, gold mining, a paddlewheel riverboat tour, dog sleds, eskimos, Mt. Denali, plus a stop at the North Pole and then followed by a seven day cruise. And for those who can only join us for one week, they can Join us on May 18 in Anchorage and take the cruise only.
Per person inside cabin packages for this cruise currently start at $748 for just the 7-day cruise, and $1798 for the 11-day cruisetour.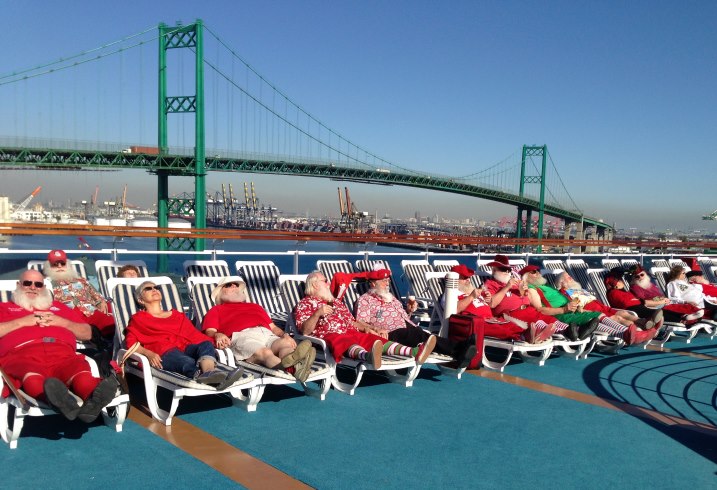 During our 10th Cruise to the Caribbean, last May, we polled everyone with the goal to decide on where the next School4Santas cruise should go.
While at sea, we had two days of school and even a special side meeting of just the wives and Mrs. Claus. And we also had many who could not go on this cruise and suggested Alaska for our next cruise.
The result of our discussions was that we agreed it is time to return and host the 2019 school in Alaska. So, it's "North to Alaska!"
While on board, each morning when we are at sea, we will have a full School4Santas, broken down into three mornings. Included in the school will be a Santa Claus Oath Ceremony and a Graduation ceremony with presentation of personalized diplomas. This will take place on the final day of the school, as we head to our final stop in Vancouver.
There is no cost for you to attend this school if you book directly with our Cruise Coordiantor, Suesie Toole. And because the wives have requested it, there will also be a special program of meetings and activities, just for the Mrs. Claus and wives.
This will be our third Alaska cruise and this time we are starting with the land tour, starting in Fairbanks. And while in Fairbanks we will take a little side trip the the North Pole and the Santa Claus House.
The discussions also covered other future curises. We agreed that we should try to schedule the 2020 Cruise to the Mediterrean, with stops in Italy and Greece. But that will take more time to schedule.
The cruise will be aboard one of the newest Princess ships, the Royal Princess.
Princess is currently offering their "Sip and Sale" promotion with FREE "All-inclusive Beverage Package" when booking a balcony or above Plus, FREE "Unlimited Soda & More" Package for additional guests in your stateroom.
Call our Cruise Vacation Planner Suesie Toole at Princess Cruises
(800) 901-1172 ext. 41829
Email: stoole@princesscruises.com
Only when booking with Suesie, can you also get the school for FREE

Date
Port
Arrive
Depart

Tue, May 14

Fairbanks
Alaska's "Golden Heart City" of Fairbanks is a great introduction to the heart of this unique state. Check in to your hotel and get ready for the begining of your adventure

.

Wed, May 15

Fairbanks
A full day in Fairbanks gives you time to get a feel for the unique culture and history of the region. You'll take a cruise on an authentic Sternwheel

er Riverboat down the Chena River then enjoy a Gold Dredge 8 tour with the chance to pan for your own gold. A hearty miner's lunch is included. An optional side trip ($25.00) is being set up by Santa Tim, to visit the Santa Claus House at North Pole Alaska following the visit to Chena River. The evening is at leisure.

Thu, May 16

Denali Princess Wilderness Lodge
Enjoy a scenic motorcoach journey to Denali National Park and the Denali Princess Wilderness Lodge. Once there, check out the deck and vistas of the N

enana River Canyon.

Fri, May 17

Denali Princess Wilderness Lodge
You have a full day to get out into one of America's best national parks. This morning, a Natural History Tour serves as a wonderful introduction to t

he animals, plants and geological features found there. Later today, you may want to stop by the tour desk to plan an activity such as rafting or hiking.

Sat, May 18

Whittier
Enjoy the scenic rail journey through some of the best wilderness in the Great Land on the exclusive Direct-to-the-Wilderness rail service. Once in Wh

ittier, you'll step from the train onto your ship for the beginning of your unforgettable cruise.

Sat, May 18

08:30 pm

Sun, May 19

03:00 pm

08:00 pm

Mon, May 20

09:15 am

07:30 pm

Tue, May 21

07:00 am

08:30 pm

Wed, May 22

06:30 am

05:00 pm

Thu, May 23

10:00 am

06:00 pm

Fri, May 24

At Sea

Sat, May 25

07:30 am
Those who booked through the IUSC and Suesie at Princess Cruises  are fully registered for our School4Santas and can also get a tax deduction for portions of the cruise and the School.   Check with your accountant


All rates and offers are subject to availability
Check with your tax person for details on tax deductible
portions of the cruise.
Any fares shown are per guest and quoted in

USD

. Taxes, Fees & Port Expenses are additional.